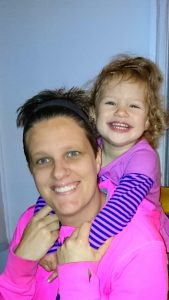 ABOUT ELLIE ROSE PARTY DESIGNS
Ellie Rose Party Designs goal is to make you look like a birthday party superstar with our easy-to-use, DIY printable party sets. We also offer easy-to-follow DIY tutorials so even if you're new to DIY papercrafting you'll know just what to do.
Hi I am Sam!
Hi there, I'm Sam a stay at home mom, kids parties fanatic and small business owner.
After 2 years of my husband being away full-time and a baby on the way, we knew it was time for a change. So with the little savings we had left we decided I would invest in myself and purchased software and education to learn a new skill. My party design business began with no experience and only the biz knowledge I was born with.
In less than 6 months, I made a small hobby my full time job and was able to retire my husband to a full-time dad! Even if you're starting from zero, like me, I want you know it is possible to create your own job, freedom, and more happiness for yourself!
Collaborations
I love to collaborate with party, lifestyle and mom bloggers.
Send me an email and we can chat more.
LET'S CONNECT